Sales
Estimator
How much is your practice worth?
In Ohio, the typical single doctor practice sell for between 62% and 78% of collections. Use the calculator below to estimate your practice value if you were to sell today.
1000000
How much is your annual gross revenue?
62
A single doctor practice typically sell for between 62% and 78% of collections in Ohio.
0
How much debt and liabilities does your practice have?
Sell with a Traditional Broker (10% Broker Fee)
Sell to Elevate Dental Partners (Zero Broker Fee)
Get More With Elevate Dental Partners:
$
Interested in getting more than 100% of your practice value and cash flow in retirement? Call or text Dr. Mark Alexandrunas at (614) 656-2077.
List your practice with us!
If you list your practice with us, you get all of our operational management services, lab pricing and supply discounts for free—while you sell your practice.
If you list and we buy it, NO BROKER FEE.
If you list and we partner with you, NO FEES.
If you list and your buyer joins our Operational Management Services, NO BROKER FEE.
If you only list your practice, we charge a 10% listing fee when you sell through us.
FREE

Operational Management Services

Average Practice Growth is $160K in First Year
FREE

Group Pricing & Dental Supply Discounts

Increases Annual Practice Revenue by 3%+
If we are your buyer or you decide to partner with us, we offer:
Elevate Dental Partners is neither a traditional transactional broker nor a traditional corporate DSO. Our 'Doctor First' model was designed to help you achieve your ideal financial future all while securing the legacy of the practice you have worked so hard to build. We've been partnering with doctors since 2016 and helping increase their practice value—sometimes by up to 100%! There is value to any and all types of practices, and we can maximize yours.
Explore your options to maximize your practice value.

You worked hard to build your dental practice. Work with us to ensure you get the most out of your practice. Call or text Dr. Mark Alexandrunas today at (614) 656-2077 to discuss your options: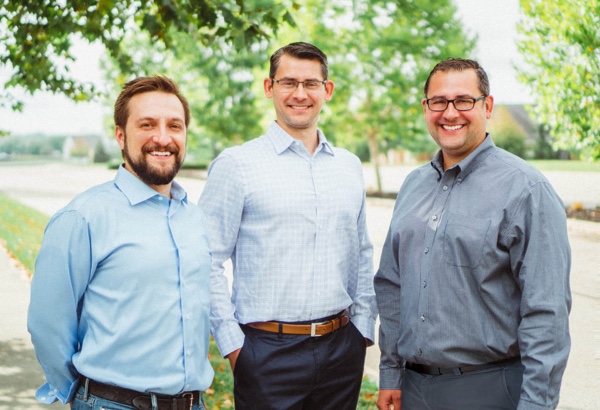 Option A: Traditional Sale
If we are your buyer, we do not charge a broker fee. You can also use our zero tax capital gains structure which is based off current IRS optimized bracket utilization. With assistance of our experienced tax accountants and lawyers, we work to ensure that your transaction is structured to minimize potential liabilities.
Example of a Traditional Sale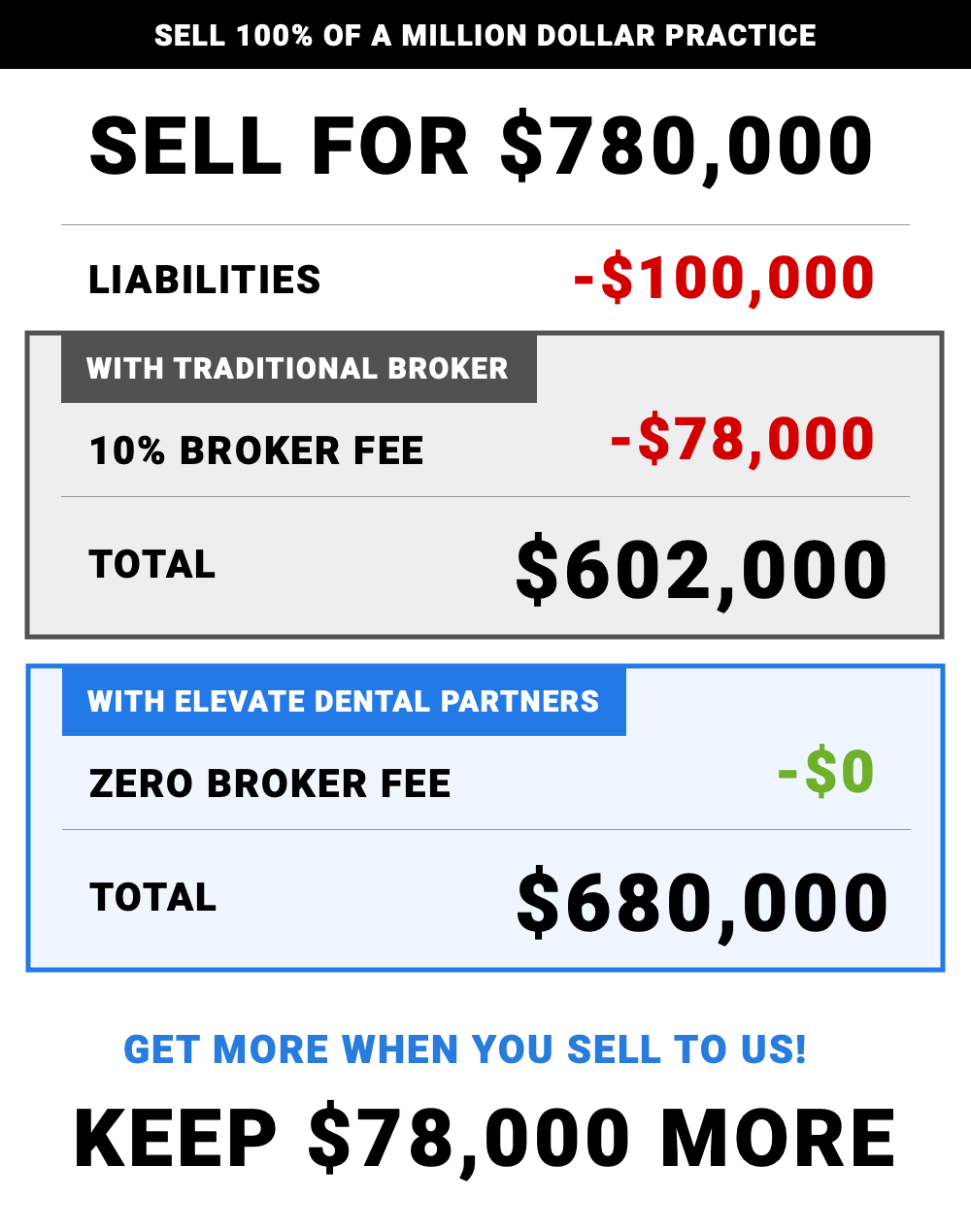 Option B: New Sale Model
Don't sell all of your equity. Get cash flow in retirement while we manage your practice. Sell 10–90% of practice now or within the next 10 years. Divest practice equities at a pace that makes you comfortable. Secure your future by planning properly for a practice transition. "Lock-in" your buyer and grow your practice value with us.
Example of a New Sale Model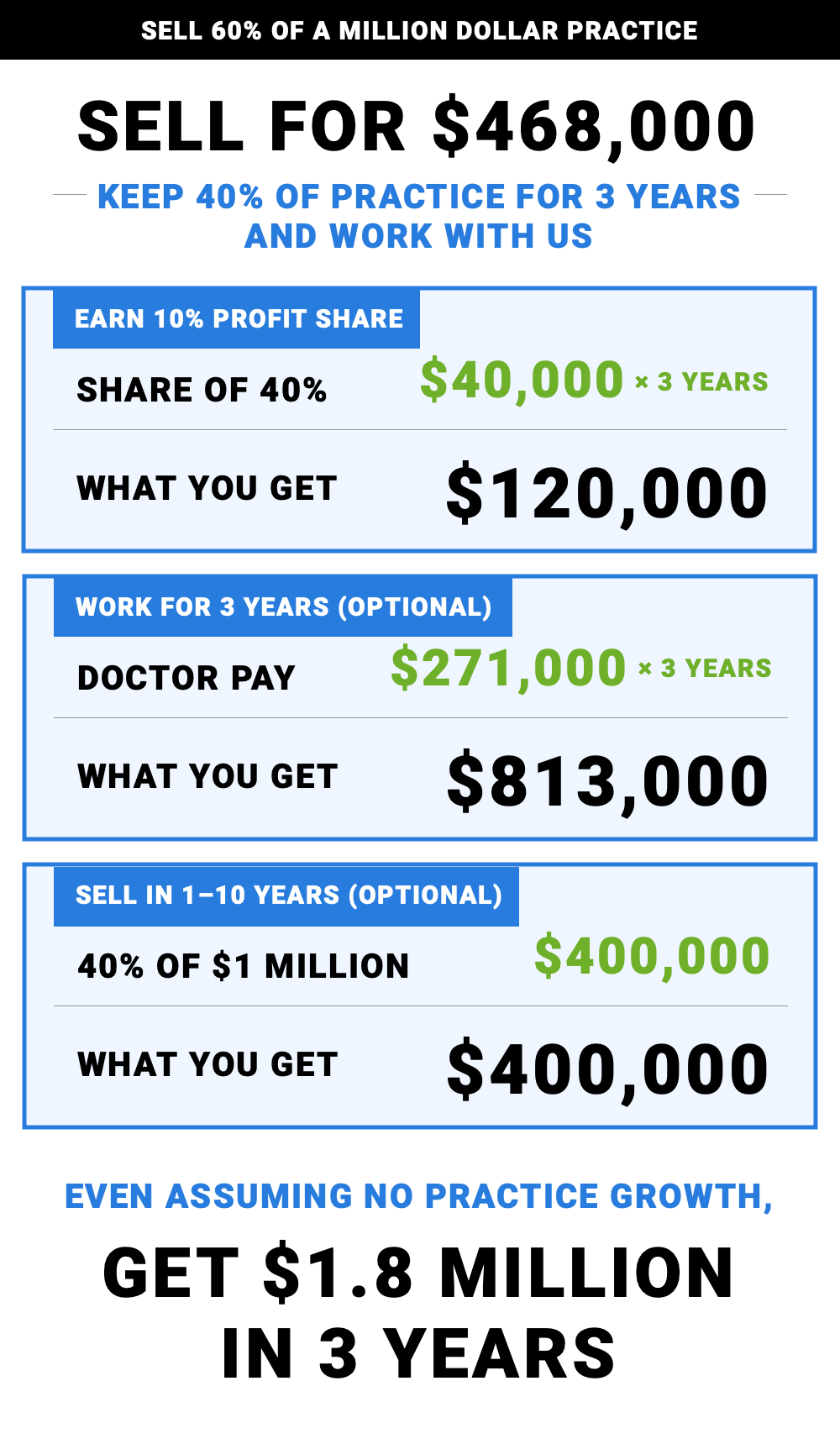 Retire and enjoy the good life.
Request free
consultation
Call (614) 656-2077 to find out if Elevate Dental Partners is the right fit for you. Or request a free consultation below to sell your dental practice in Ohio.